This past weekend our company had the opportunity to help the flood victims of Gladwin County, Michigan, by donating 200 gallons of water, over 1,000 boxes of food, and various PPE/ Personal Hygiene products.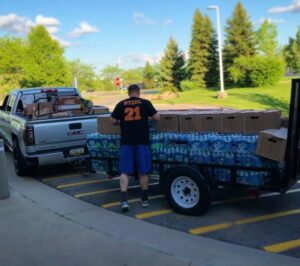 Our hearts went out when we heard about their dams breaking and knew that Steel 21 had to help. We discovered that the greatest need was fresh food & water. Upon learning of Gladwin's need, we placed an order with Meijer and delivered it Saturday morning. We were greeted at Mid Michigan Community Action with open arms and tear-filled eyes. The volunteers were very grateful and admitted that just hours before we came they hit a low point and were wondering how much longer they'd be able to keep their community fed. All we could say is that it was our employees at Steel 21 and our faith that made this miracle possible.
We want to thank the team at Knapp Street Meijer for their help in loading the supplies and their positive attitudes while fulfilling their LARGEST 'Curbside-Order' to date. We also want to thank our staff at Steel 21 that made this relief happen.
There is still a great need in Gladwin and the surrounding counties that were affected by the flooding from the broken dams. Please consider donating to this cause.