In 2015, Kimm Slater thought of a new, faster method of steel plate processing. After owning two previous steel plate centers that used Blanchard Grinding, our founder created 21 Micro Milling™.
After extensive research, the 21 Micro Mill holds tolerances 3x tighter and a surface quality 5x smoother than Blanchard Grinding, an invention dating back to 1901. Steel 21's process is also 100% Recyclable, eliminating any contribution to the mountains of hazardous grind sludge that Blanchard Grinding produces. Upon learning the benefits of the 21 Micro Mill process, Slater filed for a Process Patent with the USPTO on October 23, 2017 and received it on October 22, 2019. On March 31, 2020 and December 28, 2021 Steel 21 received two more patents for the 21 Micro Mill process. This makes the 21 Micro Mill the first major innovation in steel plate processing in over a century!
Steel 21 started as an empty lot in Cedar Springs, MI, and is now a distinguished business with an A+ rating from the Better Business Bureau. With just under 50 employees in less than 7-years' time, we are constantly excited to see what the future brings for our company as we continue to improve our facility and refine our processes.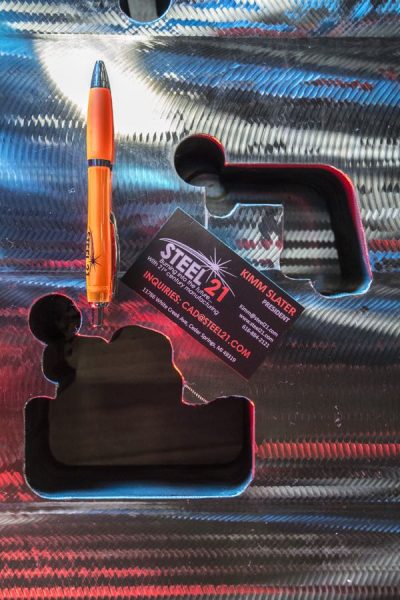 Though we love our steel plate with their shiny 21 Micro Mill Finish, Steel 21 recognizes that there is much more to our company than providing steel. This is why we partner with organizations who give back to our West Michigan communities.
Steel 21 is a proud sponsor of:
Rockford Rotary Foundation
ELE's Place
Up & Out Ministries
Northview Education Foundation
Cedar Springs Athletics
Rockford Education Foundation
Cedar Springs Education Foundation
Cedar Springs Red Flannel Day Parade
Algoma Christian Schools
Poverty Ministry Consulting
AMBA
Cadets
Events of Elegance
Steel 21 is passionate about Environmental Conservation, United States Manufacturing, Missionary Organizations, Education, and Community Outreach.